A-Tisket, A-Tasket, A Central Park Picnic Basket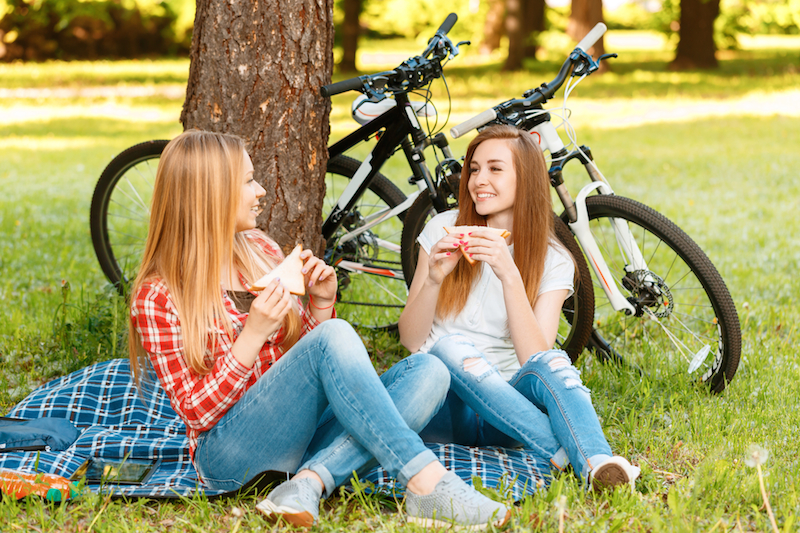 If you've spent even a moment in New York City this summer, you are sure to know one thing- it was hot. Not just 'run-of-the-mill, pack a light sweater just in case' hot, but 'Huh, I didn't know it was possible to sweat literal buckets, I never want to see a sweater again' hot. While we were incredibly lucky to have the breezy Central Park as a semi-sanctuary, temperatures rose as high as The Empire State Building, and it seemed, for a short while, that we as a city were actually rooting for the end of summer! Okay, maybe that was just me, but hear me out- some of my favorite summer traditions had to be put on hold. As the saying goes, "If you can't take the heat, stay out of the kitchen," and stay out of the kitchen I did. I put off trips to Coney Island, four hour brunches with ample outdoor seating, and so much more. But I think what I missed the most was having my annual picnic in the Park. Year after year, I take such delight in preparing some delicious snacks, making a perfect summer playlist, and enjoying an easy, breezy day with my friends, and maybe I'm just heat sensitive, but after our first week of 90+ degree days, I knew I was just going to have to dream about it this time around.
Now that the heat wave has (mostly) subsided, I have had my eyes on the prize for a fantastic fall feast, right in the heart of Sheep Meadow. I've also decided to use some of my newfound indoor time to do a little digging and see who first decided to take perfectly good food out of a perfectly good kitchen and instead eat it on the dirt ground (mostly so I can send them or their descendants a "Thank You" gift basket).
The first recorded outdoor meals took place in the Middle Ages, and were a favorite pastime for the wealthy. These functions remained exclusively high-class for centuries, and that is in no way surprising. Historically, picnics followed a potluck structure, where every family was required to bring a dish that could feed anywhere from 30 to 100 people, which was just not possible for the lower- or even middle- class at the time. The working class also couldn't fathom why people would want to take their perfectly good meals outdoors.
This was the general feeling on picnics until the Victorian Era, when Isabella Beeton published her seminal 1861 book on British cooking and housekeeping, Mrs. Beeton's Book of Household Management. In this book, which was written to advise regular, working-class wives in the ways of housekeeping, decorum, and of course, cooking, Mrs. Beeton laid out a foolproof picnic menu that "any" woman could prepare with ease. This picnic, designed to accommodate 40 people, included cold roast beef, four meat pies, four roast chickens, two roast ducks, four dozen cheesecakes and one large cold plum pudding, amongst other side dishes. Because Mrs. Beeson knew the guests would get thirsty due to all of this food, the picnic check-list also called for, three dozen quart bottles of beer, claret, sherry and brandy. You know, just a simple, humble picnic. Nothing about that list is crazy at all. (Obviously, I'm kidding, this is insane).
While this recipe is a little over the top (to say the least) luckily, things on the picnic front have calmed down quite a bit since then. We're free to just sit with some friends, pop a bottle of some nice Rosé (okay, maybe that's just me), and enjoy some delicious food. As for my upcoming picnic, I actually have less planning to do this year than usual. Mangia, the New York restaurant that basically revolutionized the New York lunch, is offering premade picnics to Central Park Sightseeing customers. These boxes are made daily and come in a wide selection of varieties- all made with farm to table, healthy ingredients that are more delicious than anything that good for you has the right to be. These picnic boxes have been a game changer for my picnic prep, and hopefully, they can do the same for you! Happy snacking!