Proposals in the Park
It's hard to imagine that any destination in New York (and possibly, America in general) has provided the backdrop to more marriage proposals than Central Park. With over 800 acres of stunning foliage and dozens of iconic locations, there is sure to be at least one spot in the park that even the most cynical of couples could find romantic. Whether a quiet pocket of land by the Reservoir, in the middle of a crowded concert at the Bandshell, or (our personal favorite) making a quick stop on the Bow Bridge before popping the champagne on a Horse and Carriage Ride, love is always in the air in New York's greatest playground. As we at Central Park Sightseeing continue to celebrate National Romance Awareness Month, we've decided to take some time to share some of our favorite Central Park Proposal Stories (with a little help from the team of HowHeAsked.com)!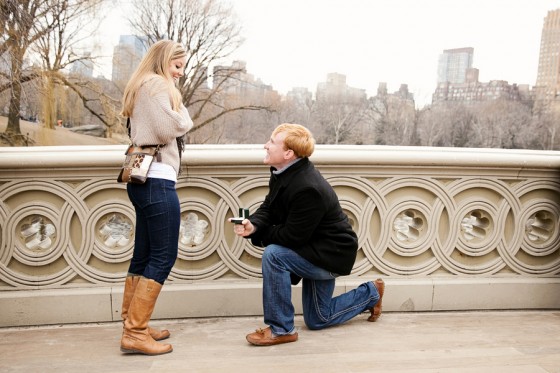 Photos by Pennace Photography
North Carolina couple Wesley and Laura met at a high school football game in their hometown. While they barely spoke upon their first meeting, Wesley came home to tell his friend that he had sat behind "the prettiest girl in Fayetteville" and knew he needed a second chance at their first meeting. As so many stories like this go, they soon became high school sweetheart, dating throughout college. After a few years of dating, Laura had made it perfectly clear that she wanted (or, honestly, expected) a ring by May 2014, the month of her college graduation. While I've never been one to encourage these sorts of deadlines, you have to applaud a girl who goes after what she wants.
In March 2014, Laura found herself on a Spring Break trip to New York with some of her sorority sisters. After a long day of shopping, Laura just wanted a snack, but her friends insisted on strolling through Central Park. Exhausted, Laura suggested they take a Horse and Carriage ride instead (smart girl!) but her friends all but demanded to walk to the famous Bow Bridge. Once at the bridge, Laura spotted a snack stand across the way and tried to bolt, but her friend first asked to see Laura's shopping bags (obviously a ploy to keep her hands free for the big moment). After that, Laura spotted the a familiar looking redhead, and almost immediately knew what was in store.
The sheer euphoria of the moment, the giddy squeals of her friends, and the applause of excited strangers led Laura to forget to answer. After a second "Will you?" from her love Wesley, she made her answer very clear and ran to show her sisters her stunning ring.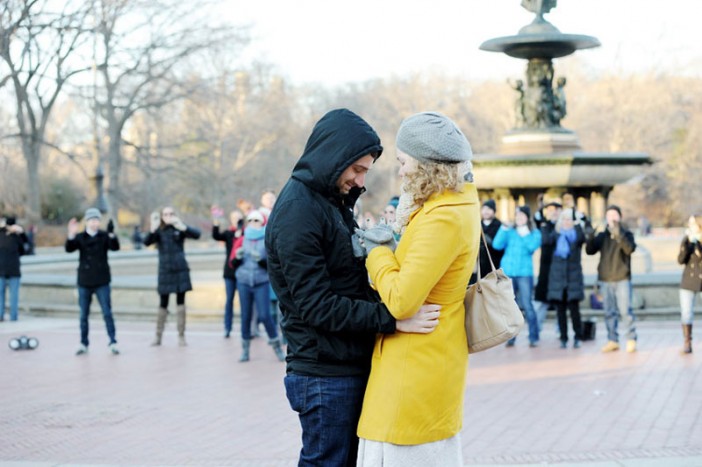 Photography by Mikkel Paige.
Danielle and Ron met in a cozy Seattle cafe. She noticed him immediately, and in order to break the ice, decided to mock some of the "pretentious" are that often frequents these hipstery coffee shops. Danielle very quickly realized that her plan may have backfires- as Ron was the artist of the piece in question. Luckily, they were able to overcome their apparent difference in taste and become a fast couple.
Four years later, the couple found themselves living in New York. On one particularly blustery day, the couple was taking a casual stroll in Central Park before meeting some friends. Ron uncharacteristically suggested taking a Horse and Carriage Ride, and while Danielle found this strange, went along with it. While Danielle complained about the cold for practically the entire time, Ron seemed unphased, only suggesting they stop at the Bethesda Fountain. When they arrived, Danielle immediately saw a sea of familiar faces. Friends and family lined the foot of the fountain, and while Danielle found this exciting, what came next was almost indescribable.
As she saw her loved ones gathered, Danielle also heard the familiar opening chords of a personal favorite song: 'A Whole New World' from the Disney Classic Aladdin. Ron had orchestrated a massive surprise flash mob for his hopeful bride to be, and it was as overwhelming as it was moving. Once Ron dropped to one knee, Danielle immediately said yes, and a Central Park celebration full of friends and family ensued!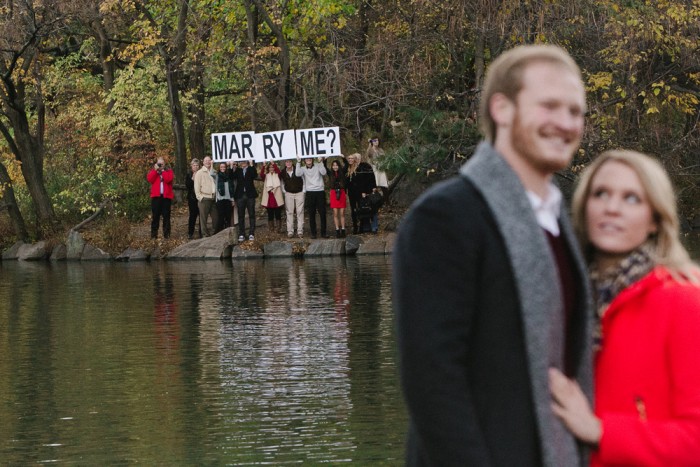 Kelsey and Chris were ships passing in the night for all of their undergraduate careers at Mississippi College, having never met before despite being on the same campus for three years. It wasn't until Chris enrolled in law school at Southern Methodist University in Dallas, Texas (where Kelsey had been working as an interior designer) that a friend thought it would be nice for Chris to meet someone with Mississippi roots. Their first date was sidetracked due to Kelsey's dead car battery, but they spent their night at the Texas State Fair and laughed it off. A year and a half later, they found themselves in New York for Laura's business trip, and the couple, along with friends Jessica and Benjamin, decided to spend a few extra days sightseeing.
While dining on the Upper East Side, Jessica and Benjamin, a married couple, mentioned they needed to take their Christmas Card photo, and that Central Park would be the perfect spot. Kelsey and Chris tagged along, and after taking their friends photo, took one of their own. As they turned to pose, with the Loeb Boathouse in the background, 13 members of the couple's family and their friends held up large block signs, spelling out "MARRY ME?". Oblivious, as Kelsey had no idea her family was in New York, she posed and smiled. When Jessica ran over to show her the photo and "see what she thought" Kelsey finally realized what was happening. She said yes, as her family from across the way ran over to embrace the newly engaged couple!