Ring in the New Year at Times Square!
Are you ready to celebrate New Year's Eve in New York?! For all those who know and love the iconic Dick Clark's Rockin' New Years Eve celebrations and who are now accustomed to seeing Ryan Seacrest on the screen, you're in for a treat! This year, Kathy Griffin and Anderson Cooper will also be hosting a live New Year's Eve special on CNN again detailing all of the happenings in Times Square and Carson Daly will be on NBC, and Pitbull iso hosting on FOX. Don't miss all the performances and specials before the ball drops at midnight!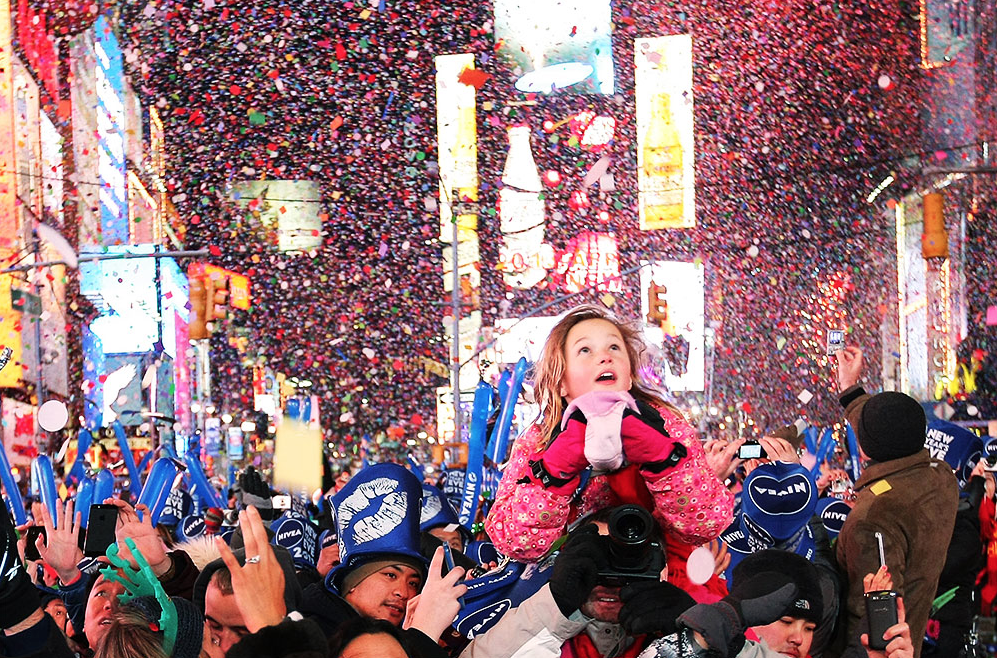 SOURCE: www.BALLDROP.com
Tune-in: Saturday, December 31st @ 8 pm on CNN for New Year's Eve Live with Anderson Cooper and Kathy Griffin in its Tenth Year
Tune-in: Saturday, December 31st @  8 pm on FOX for Pitbull's New Year's Revolution Live from Miami, Pitbull will be joined by co-hosts Queen Latifah and Snoop Dogg. The stellar lineup of performers includes Biz Markie, Salt-N-Pepa, Coolio, Tone Loc, Rob Base, Young MC, and Naughty By Nature. And, based on last year's special, I can't wait for Pitbull himself to take the stage.
Tune-in: Saturday, December 31st @ 8 pm on NBC for New Year's Eve with Carson Daly and co-host Mel B, They will also be in Times Square when the clock strikes midnight — and, based on the special's line-up, this is one you won't want to miss. It'll include performances from Jennifer Lopez, Blake Shelton, Alicia Keys, and Pentatonix.
Tune-in: Saturday, December 31st @ 8 pm on ABC for Dick Clark's New Year's Rockin' Eve
A much cherished annual tradition since 1972, "Dick Clark's New Year's Rockin' Eve with Ryan Seacrest" is the most popular way for viewers to ring in the New Year, both in the US and worldwide. Hosted by Ryan Seacrest, the show is a New Year's staple with live performances in New York along with the iconic Times Square ball drop.
This year will be the 45th anniversary of "Dick Clark's New Year's Rockin' Eve with Ryan Seacrest 2017" and will feature five and a half hours of stellar performances, reporting on New Year's celebrations around the globe. Performers in New York, New Orleans and Los Angeles will take the stage on rock out with you on New Year's Eve. Mariah Carey, DNCE, Thomas Rhett and Gloria Estefan with the cast of her Broadway musical ON YOUR FEET! will perform for over one million fans live in Times Square. The Billboard Hollywood Party will also be hosted by Fergie with additional performances in Los Angeles. And of course, you'll be able to join Seacrest and his co-host Jenny McCarthy in counting down to when that big ball drops in Times Square, thus signifying a new year has begun.
If you don't have access to an actual TV on New Year's Eve, live streaming New Year's Rockin' Eve through the official ABC website or the Watch ABC mobile app may be your best option. Through these platforms, you can live stream whatever is currently playing on ABC right from your computer or mobile device. All you have to do is boot these up starting at 8 p.m. ET on Thursday, Dec. 31 to catch all of the New Year's Rockin' Eve action
Who exactly is in the lineup for the nearly six hours of performances? We'll be posting tomorrow with the full lineup for the night so be sure to check back in the morning. The musical star of the night is undeniably Mariah Carey — she'll perform live for over one million people in Times Square moments before the ball drops, meaning she'll be the artist to give the last big musical performance of 2016. She was the first performer to sing live on Dick Clark's special, so it's fitting that Carey is the headliner for the broadcast's 45th anniversary.
SOURCE: ALFREDO ESTRELLA/AFP/Getty Images
Carey is thrilled to return to the Times Square celebration. In a statement issued, she said:
"I am so excited to return to Dick Clark's New Year's Rockin' Eve With Ryan Seacrest and feel blessed to be a part of this year's magical celebration. I can't wait to perform once again for my incredible fans as we ring in the New Year together live from Times Square."
The wildly popular pop group DNCE is also scheduled to perform and their songs are the type that'll make you want to get up and dance — even if it's just in your living room.Country singer-songwriter Thomas Rhett will also take the stage, so a variety of musical genres will be represented. I'm particularly excited to see Gloria Estefan perform with the cast of her Broadway musical On Your Feet! The show is based on the lives of Estefan and her husband — and she's the lyricist, composer, and orchestrator. Estefan herself isn't a cast member, so it'll be a treat to see her onstage with the show's stars.
SOURCE: Ben Hider/Getty Images Entertainment/Getty Images
So, whether you love country, show tunes, or good old-fashioned pop music, Dick Clark's New Year's Rockin' Eve has got your musical needs covered. And, the breaks between performances will give us a glimpse at how cities all across the globe are ringing in 2017. What could be better