Takin' It to the (Summer) Streets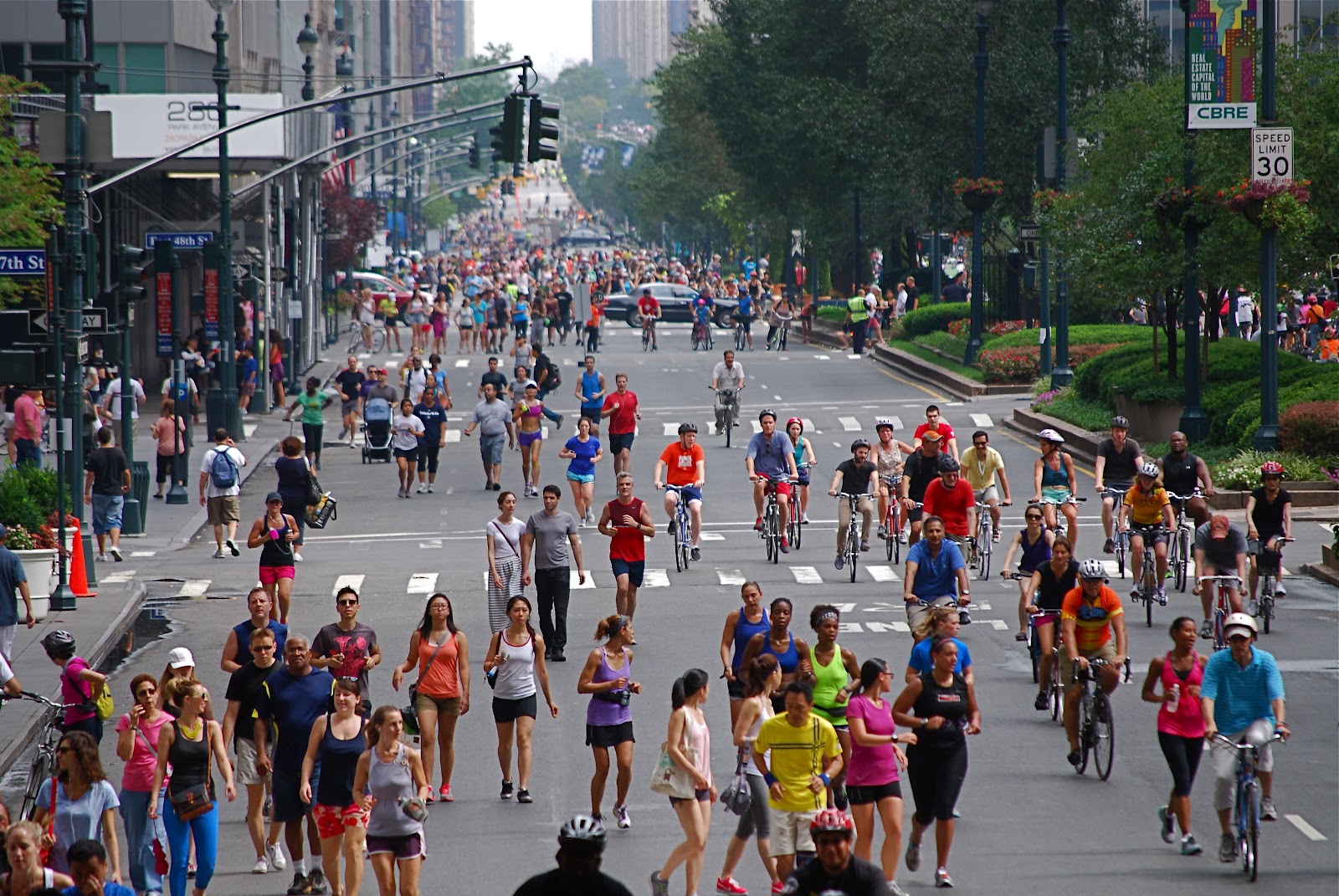 For the past nine years, The New York City Department of Transportation (or NYC DOT) presents Summer Streets- a weekly celebration of the magic of Summer in New York. This event, taking place from 7am-1pm on Saturday August 6th, 13th, and 20th, spans nearly 7 miles, closing off parts of Lafayette Street/Fourth Avenue/Park Avenue for the full six hours of the event. Anyone in New York can partake in this completely free street festival, and can partake in any activity in any of the five rest stops along the way. These attractions include fitness classes, a dog run, plenty of food and beverages, a 30 ft. Zip line, and of course, the three-story waterside that has come to be a symbol of Summer Streets. While the goal of this event was always to "take back the streets" from cars and other motor vehicles, this year, the NYC DOT is taking it one step further, with a designated area just for cyclists and joggers to take over.
This year on August 13th (the second Sunday of Summer Streets), Summer Streets will introduce a "car crawl zone" – a 60 block stretch of street, will allow bike enthusiasts and joggers will have a clear path free of cars- almost. While cars are technically allowed on this stretch, cops will be standing by at every entry point "strongly encouraging" vehicles to drive at no more than 5 miles per hour. This area will extend from Brooklyn Bridge to Battery Park and from Broadway to Water Street, and will be completely closed to motor traffic from the Brooklyn Bridge up to East 72nd Street.
Whether you're able to attend on the day of the crawl zone, no worries- There are still plenty of opportunities at Summer Streets for cycling! No matter what day you attend, you'll be able to pedal through the once automotively congested streets of New York, and Central Park Sightseeing wants to make that ride a little more enjoyable! Stop by our office during Summer Streets and receive a discounted rental simply by mentioning the event! Our top of the line Cannondales are the perfect way to show off your skills on the open road, and with locks, helmets, and baskets included with every rental, you'll be able to indulge in the swag and play at the rest stops with ease! With a bike for every rider, from tandems to baby seats, you're sure to take those Summer Streets by storm! So stop by, rent a bike, and see everything this city has to offer- up close!