The Global Citizen Festival: Music and Social Change Collide in Central Park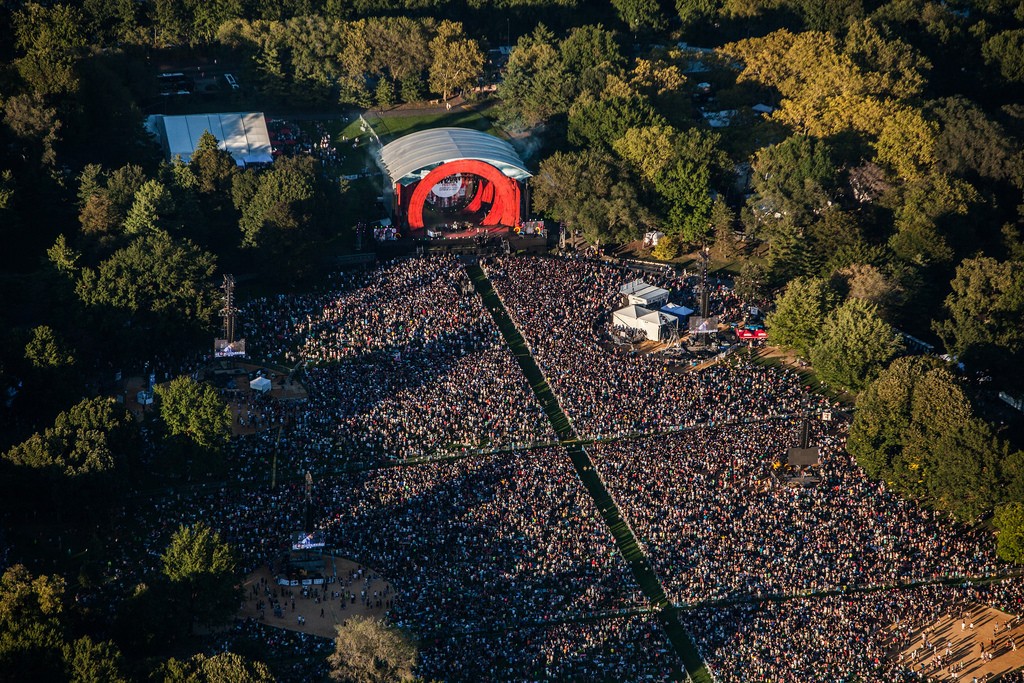 While wandering around Central Park this week, I noticed that there was a palpable buzz in the air. This is in no doubt due to the fact that the 5th Annual Global Citizen Festival is less than a week away. This day long musical event, taking place at Central Park's Great Lawn on Saturday, September 24th, is one of the premier music festivals in the country, and over the years, has attracted artists including Beyonce, Stevie Wonder, Ed Sheeran, and more. This year's lineup includes headliners Rihanna, Kendrick Lamar, Demi Lovato, Major Lazer, and Metallica, and hosts Chelsea Handler, Hugh Jackman, Neil Patrick Harris, and more. Clearly, star-power will be overflowing in Central Park this weekend!
While a brief overview of this concert can make it seem like one of the dozens of festivals that take place annually across the US, this festival has a whole lot more on its mind than the good time music and partying combinations of festivals like Bonnaroo or Coachella. This event, established in 2012, was founded in an effort to support the United Nations' Sustainable Development Goals, a 17 point plan to end extreme poverty by the year 2030. While one may assume they plan on achieving this goal by charging hundreds of dollars to the over 60,000 fans planning to flood the park, the event organizers decided to take a more hands-on approach. The tickets are distributed at random, in a free raffle for anyone who wants to enter! All hopeful festival goers need to do to be entered in the raffle is complete a series of quick tasks, designed to engage young people, especially millennials. These tasks range from watching a video on hunger to calling local Congressmen and Congresswomen with pleas to adopt policies to make education more accessible. They believe that knowledge is power, and feel that if young people are willingly taking in this information, even if it is just for concert tickets, is the most effective way to make these goals a reality.
The weight of this goal is never lost upon the day. Last year, celebrities including Leonardo DiCaprio, Stephen Colbert, Vice President Joe Biden, and First Lady Michelle Obama made appearances to give further information on the year's main themes. This year, for example, is shedding specific light on the issues of Girls & Women, Health, and Education worldwide. Through social media and other vehicles, Global Citizens (anyone participating in the actions taken to make them eligible for the raffle) have taken over 900.000 actions to bring awareness to issues relating to Girls & Women and Education, and over 1 million actions for issues regarding Education. This impact, festival organizers believe, will make a huge impact on generations to come, empowering them with knowledge that they hope equips them to face these issues head on.
While it is clearly too soon to tell how this festival and the Global Citizen movement will affect the world landscape and human condition, the millions of actions taken and people across the world participating in them lead me to believe that people are adopting this movement for more than concert tickets. After all,there is no way everyone who has entered this raffle is lucky enough to get to Central Park on a whim. For those who are unable to attend in person, the event will be broadcasted on MSNBC, and livestreamed online, so that anyone passionate about the end of poverty (or anyone looking to see an amazing show) is able to enjoy.. And if you're in the area, there's still time to enter and win tickets! So why not get involved? You will learn potentially life changing information, take action for the greater good, and, of course, get to dance on the stunning Great Lawn as some of the most influential artists of the 2000's perform. What do you have to lose?
Be sure to follow us on Instagram (centralparksightseeing) for live videos and photos from NYC's biggest event of the year!