We're All In: The US Open is Here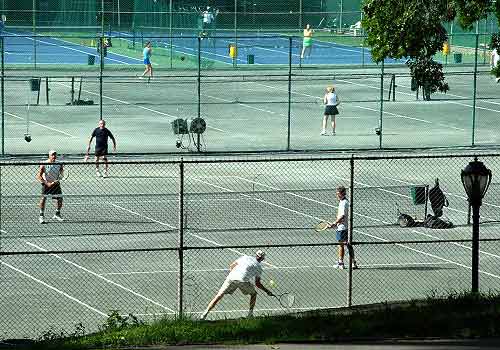 It's that time of year again dearest athletic gurus… the US Open Tennis Championships are back and better than ever! This monumental tournament starts August 29th and runs through September 11th at the USTA Billie Jean King National Tennis Center (a lengthy title to match her lengthy career). The one and only, might we even say delectable, Phil Collins will be serenading the crowd at the opening ceremony- and the crowd at home (broadcasting live by ESPN2- shout to all the homebodies out there) Monday night. If Phil's presence isn't enough to get you hooked into the tournament then how about one of the hottest names in tennis, proud member of Beyonce's Squad, the impeccable Serena Williams herself. She will be attending, playing, and let's be straight, winning so this will definitely be an event not to miss. Okay, phew, you're hooked.
Naturally, after we binge watch some intense matches with strategically placed grunting, powerfully fluid swings that scream "SLO-MO ME", and flawless face sweat dripping from those delightful head bands that are trying way too hard to catch the sweat waterfall forming, we will want to get in the game ourselves. Well, luckily, we have answers. As per usual, our beloved Central Park possesses all that we need. The Central Park Tennis Center provides everything required to have a fulfilling, US Open copycat experience. The center is located near the reservoir and is a quick 10-15 walk from 5th Avenue. There is nothing like a beautiful view and a brisk walk to remind you that maybe you should play tennis a little more often. And then we learn that the Center has a snack bar and we somehow are able to walk a little faster…
The Tennis Center has professionally certified instructors, a pro shop for all of your ambitious athletic buys, and 26 newly reconditioned Har-tru courts (sounds impressive to me). WARNING: Do not assume that because you hold a racket in your hand and you are wearing that cute, new skort that 7th grade you would hate you for wearing, that you will look as gorgeous as Venus Williams after playing tennis for 5 hours straight. For some absurd, unfair reason, us mere mortals cannot acquire that glowing aesthetic that reads "I'm playing tennis: I look good and I'm not even tired." Because, truthfully, we ARE tired, but it's okay! We're playing tennis and it feels good!